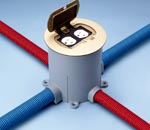 The nonmetallic round floor box offers three service
capabilities, power, phone and data in a single unit.
This box is designed to keep job costs down and has the design flexibility to accommodate future needs. A unique "Y" connector utilizes only one hub to have multiple conduits enter and exit the floor box, further increasing wiring flexibility and reducing installation time.

Carlon offers a multi-service divider kit that separates power, data and communication into three individual compartments within the box. A wide choice of designer covers will complement any decor.