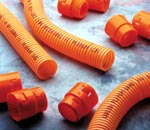 Plenum-Gard is a low-smoke, low-flame propagation,
nonmetallic flexible corrugated raceway for use in the efficient cable management of plenum cable (optical fiber
or communication) in plenum areas. Plenum-Gard provides cable identification in the industry standard, datacom
orange (other colors available on request). It also provides organization and ease-of-install for applications within the plenum (UL-910), the riser (UL1666) and areas of General Purpose (UL 1581), as outlined in the current National Electrical Code, Article 770. Additionally, it is allowed for use with telecommunications cables as described in the National Electrical Code, Article 800.
Plenum-Gard is manufactured from a PVDF Resin, a fluoropolymer compound which exceeds the requirements of UL Standard Test Method No. 2024 of UL 910 for plenum optical fiber raceways.
These raceway systems make your system "future-proof" by providing an easy means to replace old cabling with new.
Plenum-Gard is available in a wide range of sizes: 3/4-inch to 2-inch diameters (O.D. meets IPS dimensions), complemented with a complete line of fittings and accessories. The flexibility of Plenum-Gard allows for easy installation around obstructions. It is supplied with pre-installed pull tape for easy cable installation. All stock is available in short run coils, as well as long run stock reels.