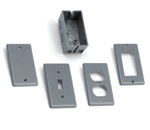 The Carlon Handy Box is a nonmetallic switch and outlet box specifically designed for use with nonmetallic conduit systems and nonmetallic sheath cabling.

Unlike metal boxes, the Carlon Handy Box has two integral cable clamps. These clamps hold nonmetallic cable firmly in place without the need for separate clamps... simply push
the wire into the clamp-opening, and the cable is held securely in place. The Carlon Handy Box also comes with six 1/2" knockouts on the sides and back for easier wiring and a variety of mounting options.