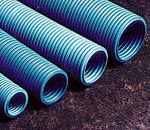 Carlon Flex-Plus Blue™ Electrical Nonmetallic Tubing is specifically designed for installation in walls, floors, slabs and ceilings, conforming to 2002 NEC, Article 362. It is manufactured from tough, noncorrosive, nonconductive thermoplastic material. Flex-Plus Blue is lightweight, making installation quick, easy and efficient. The
corrugated design facilitates easy wire pulling and pushing and its flexibility eliminates the need for bending equipment.
The product comes in a range of diameter sizes from 1/2-inch through 2 inches. And, with a full line of Quick Connect fittings all connections are concrete tight without the use of foam sealing washers. The product is available in 10-foot lengths for short runs, or stock reels for larger applications.