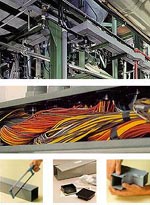 Carlon's Wire Safe® products are designed for use as electrical, electronic and communication raceways to protect wires and cables from physical and atmospheric damage. Strong, yet lightweight high-impact resistant PVC construction protects conductor and wiring, while providing long lasting, non-conducting and corrosion-proof housing.
The Wire Safe® wireway and trough system is easy to install by just one person and completely eliminates the need to pull conductors. Because of a unique snap-on cover, the system also allows for easy access after installation to add or remove circuits. The line is available
in 4 sizes with a complete set of fittings and accessories.