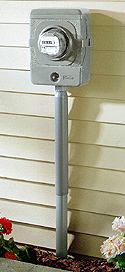 Carlon's line of slip meter risers is engineered to provide a smooth transition from rigid or corrugated conduit underground service to the electric meter. Fitted with a terminal adapter to provide an easy hook-up at the service entrance location, slip meter risers are a low-cost method of complying with NEC
300-5(j), which requires ground movement protections for buried conductors, raceways, or cables. Frost movement or trench settling that can cause conduit to bend or break, will never
again be a problem. Carlon Slip Meter Risers are manufactured from tough, thermoplastic materials that are non-corrosive and non-conductive, promising a long and service-free life. They
are available in 2, 3 or 4" diameter sizes.