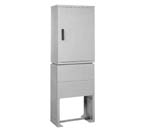 Carlon's state-of-the-art modification capabilities allow for design of Slack and Splice Enclosures to meet specific application requirements.
Slack and Splice Enclosures provide maximum protection of slack fiber and splice unit assemblies.
Eliminates need for difficult aerial and vault splicing.
Stores adequate slack fiber to facilitate splicing at ground level work station.
Enclosure sized to maintain minimum required radius of fiber optic cable.
Splice tube to accommodate industry standard splice and tray assemblies (Splice enclosure only).