Riser-Gard is a nonmetallic flexible raceway for use in the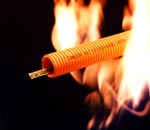 management and protection of cable in riser applications. The product is UL-listed and conforms to the current National Electrical Code for use with riser or general-purpose Optical Fiber cables (Art. 770) or Communication cables (Art. 800). The 1999 NEC, Article 770 will require listing of All General Pupose Raceways - Riser-Gard will meet that need. Additionally, it is allowed for use with telecommunications cables as described in the 1999 National Electrical Code, Article 800.
Riser-Gard is available in 3/4-inch through 2-inch diameter and comes in standard coil lengths for short runs and stock reels for longer runs.
Riser-Gard is available with factory-installed pull tape to make cable installation fast and easy. The Riser-Gard system is complemented by a full line of fittings and accessories to meet even the most demanding application.