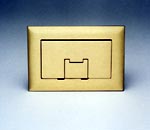 Carlon® is proud of the addition of polished brass covers to its revolutionary floor box product line. Brass covers add
a classic touch to all of your floor box installations and are particularly suited for use in high-traffic areas because of their exceptional resistance to wear. Now, both round and rectangular commercial floor box lines feature the new solid brass covers as well as a wide choice of durable thermoplastic designer covers.

Carlon's Metal Cover Adapter Ring has also been redesigned to accommodate our new brass covers and give a precise fit in today's increasingly sophisticated office environments.