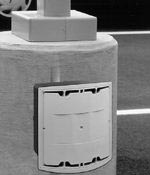 Carlon introduces the new nonmetallic J-Box. Made specifically for use in 24-inch concrete piers, these units
are installed when piers are poured, giving the contractor
the capability of prewiring before pole installation. Available in two large sizes, 8"x 8" and 12"x12". These boxes provide a giant junction box at every pole making splicing and post installation monitoring easier and faster.

Nonmetallic construction eliminates rust and corrosion. Units are paintable and can be fitted with weatherproof
outlet covers for electrical access in the parking lot.