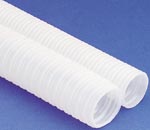 Hal-Free Riser-Gard is a halogen free nonmetallic flexible
raceway for use in riser and general purpose applications.
In the event of a fire, this product will not release halogen elements into the air, which makes it ideal for applications in tunnels, laboratories and high-tech environments. Hal-Free Riser-Gard is in compliance with NEC Articles 770
and 800, and meets all the requirements of UL 2024.